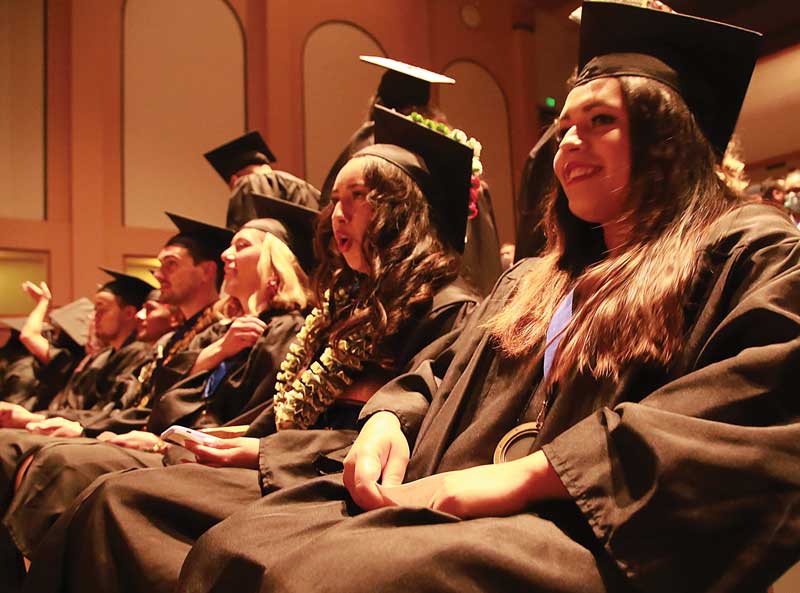 A different pathway to success: Adult school graduates 90
When Watsonville/Aptos/Santa Cruz Adult Education leads off the graduation season every year, it is a reminder that educational success does not always follow a traditional path, and that anyone can build for themselves new lives and find second chances—and gain new knowledge—when they are ready to do so.
It is a place to complete one's education, to start a new career or to seek out a subject of interest.
This year's 90 graduates include high school diplomas, citizenship certificates, medical assistants and pharmacy technicians. 
Boulder Creek resident Judy Meza was 13 when she stopped attending classes in her native Costa Rica. By the end of the year she was so far behind she did not go back.
"I made bad decisions," she said. "I started not going to classes, hanging out with the wrong people."
As time went by, she took jobs that helped support herself and then her family, such as cleaning houses. She eventually came to the U.S.
While finishing her education was always in the back of her mind, she kept working entry-level jobs. And then one day her son, now 11, asked for help on homework. It was subject matter she knew she would have learned at his age, and which she did not know.
"It was embarrassing," she said. "I felt so bad, because I couldn't help him."
Her decision to return to school was cemented when her son brought home an assignment in which he was to describe what his parents did for a living.
"He didn't have anything good to say," she said. "He said, 'I don't know—she just stays at home doing nothing.'" 
And so Meza found the adult school, taking classes that fit her schedule and weathering the challenges the pandemic posed to education.
She is now attending Cabrillo College, completing the prerequisites needed to get her nursing degree.
"I am so happy," she said. 
Her pride in the accomplishment recently manifested in a surprising way—on a form that asked her to list her level of education, which before she always had to leave blank.
"Now I can say I'm a GED graduate," she said.
Steven Cordova, 30, already had his high school diploma, but said the busy schedule required of a parent did not allow him to attend college.
"I was trying to find something affordable, and something that would help me short-term and long-term," he said.
Cordova considered a career in law enforcement, but passed on that option.
"I wanted my kids to see their dad helping people instead of governing people," he said.
When he found the school's Certified Nursing Assistant program, he knew it was the right fit.
After finishing, he passed the state certification process, and immediately after that scored a job at Valley Convalescent in Watsonville.
The job, he said, is a great step into a possible career in nursing or other medical field.
"I love it," he said. "This program is good for all ages." 
"The teachers are awesome," he said of the school. "They teach you everything you need to know."