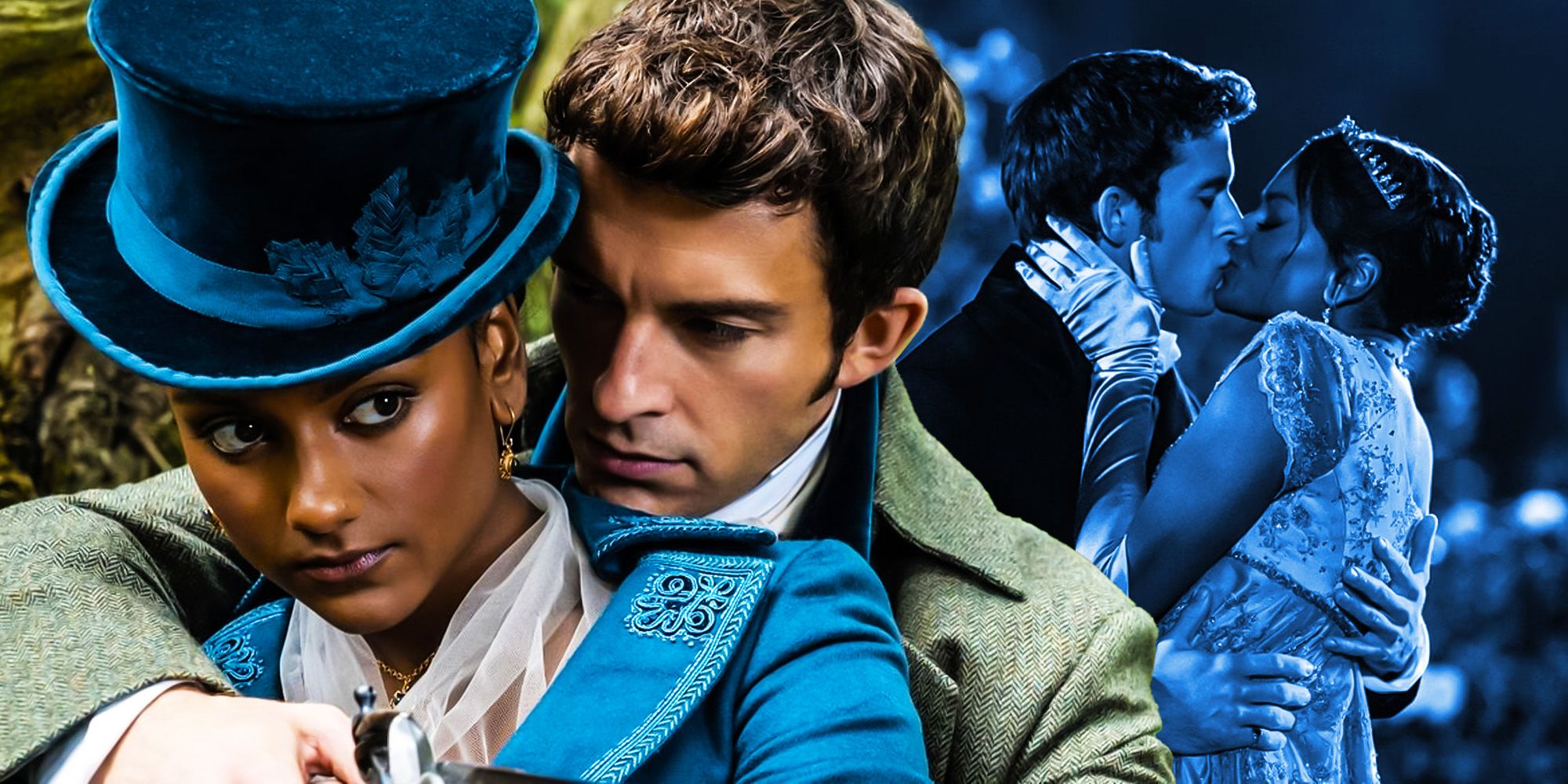 Bridgerton Season 2 Originally Had More Sex (& Why Those Scenes Were Cut)
Netflix's Bridgerton season 2 cut a lot of the sex scenes between Anthony Bridgerton and Kate Sharma. Intimacy coordinator Lizzy Talbot reveals why!
An intimacy coordinator on Netflix's Bridgerton season 2 revealed why a lot of sex scenes were cut. Based on Julia Quinn's bestselling book series of the same name, Shonda Rhimes' radiant television adaptation took the world by storm when it hit the streaming service in 2020. Centered on the swanky world of Regency-era London, Bridgerton explores wealth, lust, and betrayal. Bridgerton season 1 broke records for Netflix, earning a dedicated viewership around the world and much media attention. The latter was specifically driven by the show's graphic sex scenes.
Phoebe Dynevor and Regé-Jean Page lit Bridgerton season 1 on fire while playing out Daphne Bridgerton and Simon Basset's whirlwind courtship. Viewers watched the pair go from burning for each other to acting out various sexual escapades. The explicit scenes caused quite the buzz, becoming integral to the show's recipe for success. Naturally, when Bridgerton season 2 was renewed, audiences geared up for more regal romps. The sophomore season found a new relationship to spotlight in Anthony Bridgerton (Jonathan Bailey) and Kate Sharma (Simone Ashley).
RELATED: Everything We Know About Bridgerton Season 3
Almost immediately after Bridgerton season 2 began streaming in 2022, a mass of viewers expressed disappointment in the lack of sex scenes. Bridgerton intimacy coordinator Lizzy Talbot addressed the backlash to Glamour, revealing why many sex scenes between Anthony and Kate were cut. Referencing the fact that lots of the content they filmed was left on the cutting room floor, Talbot told the publication:
"We always do more than we need to so there are many options in the edit. I think that that's a really important thing. I know people have been frustrated that there haven't been more [sex scenes], but part of it is that we want to give our absolute best. There are loads of scenes that don't make the final edit — that's just the world of film. What we are really confident in is that the sex scenes that are in, we're really proud of."
Talbot said that the same was true of season 1. She alluded that the cut scenes weren't as good as the ones that ended up in the show. The coordinator went on to say that Bridgerton season 2 was all-around a much slower burn, with the tension building between Anthony and Kate integral to the plot of the latest batch of episodes. She supported the writers' decision to not only build that tension but to also allow viewers to get to know each character better. In the end, Talbot believes audiences were more invested in the couple because of it and thus more satisfied when they finally see them come together and, ultimately, Bridgerton season 2 doesn't need the sex scenes to succeed. It's an exercise in restraint to be sure, but it also illustrates the ways in which these particular characters operate in the world.
While it was certainly satisfying to see the Viscount and Sharma be intimate after all of the heavy-breathing and endless eye contact, Bridgerton season 2's tension was far more frustrating than season 1's in both good and bad ways. After all, Bridgerton originally lured audiences in with a delicious recipe that was heavy on spectacle and sex. With the latter far lighter in season 2, it's understandable why audiences would be disappointed even if it was ultimately for the best. If Bridgerton wants to truly keep satisfying the masses, though, it may need to shake up the spice factor for season 3.
NEXT: Why Bridgerton Season 2 Has Way Fewer Sex Scenes Than Season 1
Source: Glamour
Vince Gilligan's New TV Show Is Very Different From Breaking Bad
About The Author

https://screenrant.com/bridgerton-season-2-sex-scenes-cut-why-explained/